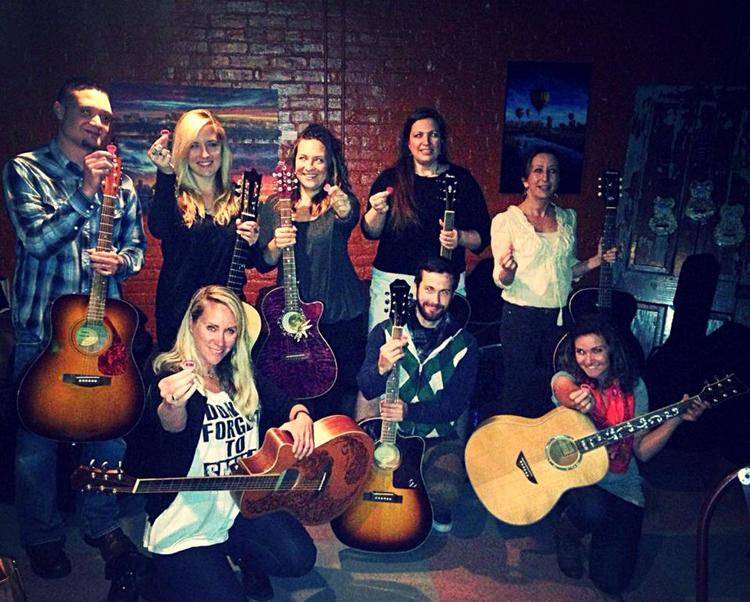 NEWBIE G
This class is designed specifically for beginners and there's no experience required! We start with the basics and then learn some of the most popular chords on the planet in the Key of G. Be prepared to play your first song just 4 lessons into your guitar career.
NEWBIE C
This class is designed specifically for beginners and there's no experience required! We start with the basics and then learn some of the most popular chords on the planet in the Key of C. Be prepared to play your first song just 4 lessons into your guitar career.

GUITAR HERO Level 3
It's time to start moving around the fret board. We'll introduce you to moveable shapes and have you going up and down the guitar neck in no time at all. We'll be learning 1-2 new songs in this level.
ROCKSTAR Level 4
It's time to be a Rockstar! Welcome to the world of Power Chords. Learn how to play your favorite rock songs using only 2 fingers! We'll also dive into alternate tunings and a short introduction to Bar Chords.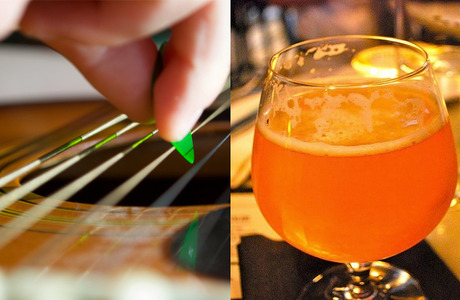 HOT SHOTS Level 5
In Hot Shots we'll be introducing you to the world of Bar Chords. Ever wondered how to play an Ab Minor? We'll show you! By the end of this class you'll know 48 new chord shapes and names.
GUITAR ACE Level 6
Time to play some of your favorite Riffs. We will be learning the classic and modern riffs you've come to love. In addition, we start off each week with a different finger exercise to strengthen muscles and focus on individual finger dexterity.
MAVERICKS Level 7
1-4-5 is the major chord progression known around the world. It's in almost every song you've ever heard and it all stems from the basic 1-4-5 Blues progression. We'll show you how to play basic blues riffs and introduce you to the minor pentatonic scale just in time for you to take your first guitar solo!
LEGENDS Level 8
If you want to become an accomplished guitar player, knowing a little chord theory is a great start. Welcome to Chord Theory 101. We'll be breaking down the basic elements of a chord, introducing you to the Circle Of Fifths and show you how to transpose a song into any key!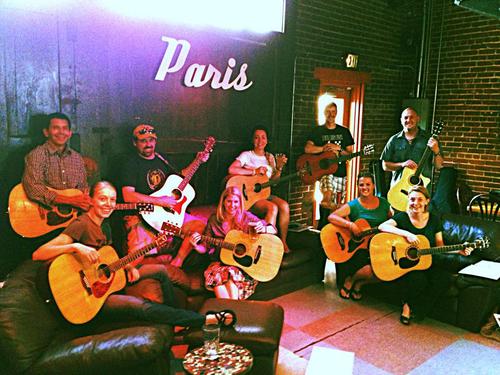 MOJO MASTER Level 9
Inspired by my friend Rick! In level 7 we introduce you to Flat picking. We start by teaching you specific techniques and exercises to get your picking hand in the proper positions. This class will forever change your guitar picking skills. Rick ON!!!!!
GURU Level 10
If you've ever wanted to understand the fretboard this class will most certainly help you connect the dots! We will cover basic scales (major and minor) & intervals like, 3rds-4ths & 5ths & octaves what they look like and how to use them.
GUITAR GOD Level 11
Wanna add some flavor to your guitar playing? Try playing an inversion. Inversions are chords whose notes have been inverted or have changed positions. We'll show you how to invert a chord and play new chords all over the neck with a new and inspiring sound.
WIZARD Level 12
Gandalf has nothing on you! In the final level of our advanced series we'll show you how to play Arpeggios, hammer-on's & pulloffs, while using, sweeping, legato and alternate picking techniques. Go ahead, cast a spell!
ADDITIONAL CLASSES
MASTERS SERIES Levels 1–6
For those who have graduated our 1–12 program or intermediate students looking to move on to more advanced techniques, check out our Master Series. Alternate tunings, advanced scales, advanced blues, finger style (finger picking), arpeggio's and much more. Take your playing to another level!
*NEW* AMPED Electric guitar class
Get ready for AMPED! Our first ever electric guitar class at Strum & Sip. Learn how to play all your favorite riffs and songs on the electric guitar. All you'll need is an electric guitar, guitar cable and a mini/micro amp (get more info here). So crank up the distortion and get ready to ROCK!
1 HIT WONDER
Unleash your inner ROCKSTAR!! Playing the guitar is easier than you think. In this 60 minute class we'll teach you some basic guitar guitar chords and learn a handful of some of your favorite songs. Better yet, invite a friend and come join the fun! Guitars are provided with this class or bring your own.
ROAD TOUR
In our ROAD TOUR series we'll review all materials covered in our famous Rockstar (1-4), Legends (5-8) and Wizard (9-12) series. We add new songs and materials based on the chords and concepts you've already learned. A great way to review the materials you've previously covered and be challenged with new and advanced ideas. We also recommend these classes for anyone with some previous guitar experience.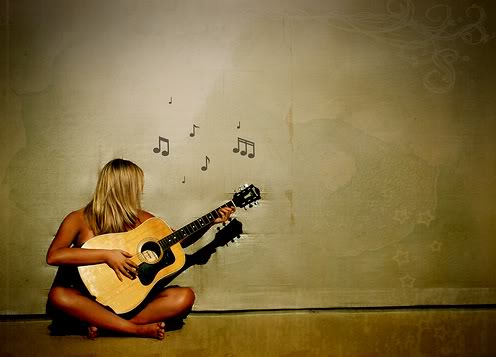 PLAYLISTS Lite
In Playlists "lite" we learn a simple 3-4 chord song each week. If you can strum a few chords already this is a great class for you. Less of a classroom format than our 1-12 classes and more a family style jam!
PLAYLISTS Advanced
Same style of class as Playlists Lite with advanced songs! Be challenged with barre chords, advanced strumming patterns and techniques. A great class for those with a few years of guitar playing under their belt.
SONGWRITERS CLASS
Learn the basic concept of writing songs. We'll show you the popular techniques that will enable you to write chord progressions and songs with ease. Some previous guitar experience is encouraged.
ADVANCED STRUMMING
Ready to take your strumming to a whole new level? In this class we'll be primarily focusing on your strumming hand giving you exercises and techniques to improve your rhythm, speed and accuracy! Be prepared to sweat!
*All Classes run 4 consecutive weeks unless otherwise noted.